| | |
| --- | --- |
| Rhine River cruises to visit German wine festivals in 2023 and 2024 Rhine River Lights firework displays with half day round boat cruises A spectacular firework display during a boat trip in the Middle Rhine River Valley between Koblenz / Coblence, Lahnstein, Boppard, St. Goar, Loreley Rock, Oberwesel, Bacharach, Assmannshausen, Bingen and Rudesheim. The boat cruise with DJ music and dance on board is starting from different wine towns with wine hikings and wine festivals. | |
+

We just want our passengers to have fun!
New Rhine-River-Lights boat cruises with music, dance and fireworks.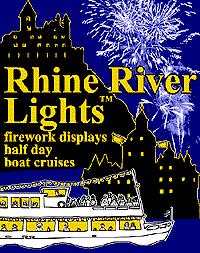 Even three romantic boat cruises on the middle Rhine River, including firework and visit of a wine festival offers the organiser Germany-Travel-Net in the summer of this year in the course of the event serial Rhine River Lights.
"Other than similar organisers, we have strictly limited the number of the boats", says the manager of Germany-Travel-Net Wilhelm Hermann. "Because of that, virtually all guests are in the 'front row' during the fireworks of the Rhine River Lights™."
According to the information of Germany-Travel-Net, there are two respectively three fireworks planned for the Rhine-River-Lights boat cruises.
In order to bring success to the Rhine-River-Lights boat cruises, Germany-Travel-Net does not just focus on pyrotechnical spectacles.
The organizer Germany-Travel-Net has timed both boat cruise trips in that way, that the passengers will have the possibility to visit either the Red Wine Festival in Bacharach on the Rhine River, or the Culinary Summer Night in Bacharach in the Rhine River banks, or the Wine Festival in Bacharach on the Rhine River.
"All we want is our passengers to have fun!", says Wilhelm Hermann from Germany-Travel-Net, "that is why there is also live music and dance on the Rhine-River-Lights boats.
Tickets can be ordered on the internet at:
Rhine-River-Lights.com
---
German wine of the month | Wine tastings in Germany
---
A real insiders' tip is the "Lorelei Gallery" in Oberwesel on the Rhine river in Germany, a wonderful antique shop in the Holzgasse (a small side street full of old half-timbered houses), on the corner of Liebfrauenstrasse 41.
The shop offers up to 150 year old original old steel engravings, copper engravings, wood carvings and etchings of the Lorelei Cliff and all the castles and towns along the Rhine and in the Rhine river valley at really bargain prices.
Some of the copper engravings of the Rhine are as old as 350 years!
| | |
| --- | --- |
| Germany, Rhine River Valley, Mainz, Rudesheim, Bacharach, Lorelei Rock, Koblenz Nonsmoking Canopy bed holiday apartment Hermann, ask for Last Minute Offers Central quiet location in Oberwesel on the Rhine river. Renovated in 2015, 55 sqm. Bedroom with historic four-poster bed and satellite TV, living room with sofa bed and satellite TV, kitchen, free Wi-Fi, balcony, terrace. Car parking. 4 boat landing stages. 630 meters from castle Schonburg. Favorable permanent rental price from Nov. to March. | |
+
gift boxes gift shop gift shops gift catalogs anniversary gift friendship gift baskets gift items gift certificate wholesale gift catalogs romantic gift ideas gift box

porcelain gifts, corporate gifts, wedding anniversary gifts, unique gifts, nautical gifts, business gifts, promotional gifts, kids gifts, wholesale gifts, country gifts, romantic gifts, expensive gifts, golf gifts

wedding crafts, preschool crafts, bead crafts, wooden crafts, arts crafts, children's crafts, plastic canvas crafts, children crafts, holiday crafts, wholesale crafts, childrens crafts, paper crafts, fall crafts, crafts for children, angel crafts